Each individual has to find a way for him or her to make Bible reading work. It might perhaps look easy to start reading the Bible, but what matters is to come to read the whole Bible, and not just some verses taken out of context, what we see happening in many churches. even in protestant churches, where at the beginning of protestantism the focus was on the word of God, lots of protestant churches do not spend much time any more in reading the Bible  and discussing the content of the Bible-reading. In lots of protestant churches we can find pastors (clergymen or priests in charge of a congregation) or vicars quoting lots of verses, but not presenting the whole paragraph and not presenting the whole chapter to their congregation. Taken out of context they often can twist around and make their congregating assembly or congregation or parishioners to believe whatever that pastor and his church wants people to believe.
What we see today is that not many churches make work of saturating their flock with Bible chapters. Lots of churches also do not work at it to give their congregation an idea how everything fits and how everything leads up to Plan of the Master Maker that has to come into fulfilment.
When reading the Bible you always should remember that it are God His Words and His life lessons which He gave to mankind so that we can come to know Him and can come to see what He wants from us and what He wants to do with us and with the world.
When you know that to read a chapter of Scripture aloud would usually take about five minutes of time, you should consider to have your bible reading also with others. When with more than one person to read the Bible each person can take five verses to read out loud. And when the chapter is read you can discus what each of you came to understand from that reading. Together such reading may bring more insight and will encourage all co-operating to continue.
When reading it as a project of studying it as well, you may find it handy to use special Bible markers to mark crucial words. You best draw lines in different and particular colours for certain things. Use one specific colour to underline what the Most High Elohim is saying, an other colour for what rabbi Jeshua is saying, again another colour to indicate places and an other colour to mark the given rules, regulations, dictates or commandments of God. You also may use again an other colour to mark other words and/or concepts.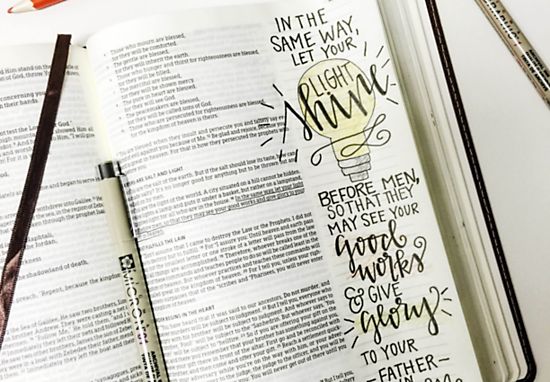 Today in certain evangelical churches Bible Journaling is a hype, but making so many notations and drawings in one bible book may end up in not being able to concentrate any more on the bible text itself, it being blurred by your other personal thoughts and by those of other human beings. Such 'journaling' you better keep to a separate note book, which is ideal to accompany you on your quest for Biblical knowledge.
Though if you love drawing in your Bible and want to make many notes you also can find special Bibles with enough space to do so. for this you best look for Wide margins Bibles.
In case you re looking for a Journaling Bible make sure you buy one with enough space to write notes and when there is an extra notes section at the end of each book of the Bible that would be a good asset.
An other very useful tool to do thorough Bible reading and Bible study is making use of a verbal index, to the Bible or Bible concordance. Such a guide book or alphabetical index of all the words in the Biblical text or corpus of texts, shall show every contextual occurrence of a word. Today there are also computer software programs and tablet and smartphone applications where also such index is produced so that by a search or by an alphabetically listing every word in the bible text can be compared with the same word in an other place of Bible book.
There are also bibles on the market which have at the end a small concordance or an alphabetical list of subjects or topics in the bible, which is often much more useful by the daily bible reading, than the list of phrases given in the full concordance. Also the Reference Bibles, translations with in the middle or at the site references to other places in scripture, without adding human notes, are very handy to make sure you shall not get indoctrinated by false teachings. In that instance you shall be able to compare the different quotes with each other and place them in context with the read paragraph and chapter.
A big concordance, like the Strong Exhaustive Concordance, giving the similarity in appearance of members of words and expressions, can bring you to different verses where the same word is used, so that you can come to analyse what the meaning may be. Such work can avoid that you just pick any meaning that suits you, buffet-style. Too many people say that denominations use their own bible because they do not use the same word as others and those "bible translators all changed the words according to their teaching". When using a concordance you might find reference numbers which makes it possible how the translators went choosing words. As such you shall be able to find that it is often a matter of synonyms.
You always have to remember that God wanted to reach all people, educated as well as uneducated. The Elohim His infallible and inspired Word was given to mankind not in a very difficult to understand language, but written in human language using human vocabulary.
Whatever tool you want to use to help you in Bible reading and Bible study, always remember that it is just a human tool, but that the most power is to find in the bible Words themselves. You always should let the Bible speak. You also should be very careful when you use Study bibles that you do not start taking the added notes as part of the Bible. You always should check if those theologians their notes are in accordance with what is written in the Bible. For example when they say 'god the son' and there is written in the Bible text 'the son of God', please do accept what is written in the Bible text and do not think 'god the son'. According the Scriptures there is the son of God but no second or third person in the One and Only True God. Therefore let yourself not been carried away by human doctrines like the Trinity matter.
You also do not need philosophical books to guide you through your bible reading. You should trust the Words of the Scriptures themselves and trust God. They can and shall reveal the truth. You only have to listen to those Words from the Holy Bible and insight and wisdom shall come to you.
May the Adonai, Elohim HasHem Jehovah be with you and give all guidance you need.
+
Preceding
How to Read the Bible (sequel 1)
How to Read the Bible (sequel 2)
How to Read the Bible (sequel 3)
How to Read the Bible (sequel 4)
++
Additional reading
Old and newer King James Versions and other translations #10 Journaling Bibles and illustrative women
+++
Find also
+++
Further reading
+++
Related articles
Save
Save
Save
Save
Save