Een Thora-rol is het dichtstbijzijnde ding dat het jodendom heeft voor een heilig object. Nog steeds geschreven vandaag zoals het duizenden jaren geleden was – op perkament, met behulp van een veer, door een meester-schrijver – is het ons meest gekoesterde bezit. We staan in zijn aanwezigheid alsof het een koning is. Men kan vele Joden er mee zien dansen, alsof het een bruid is. Velen kussen het alsof het een vriend is. Als, God verhoede, er één onherstelbaar is beschadigd,  rouwen we er om alsof het een lid van het gezin is.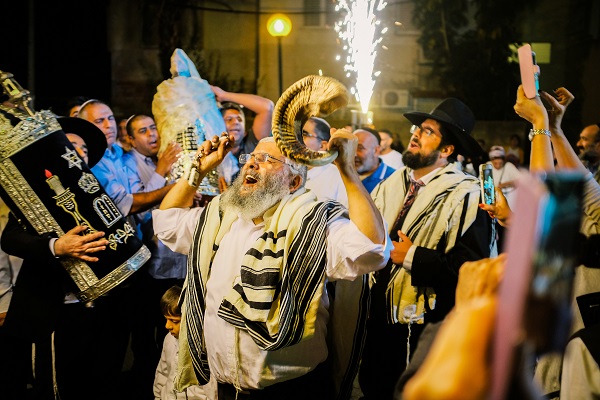 Wanneer op Simchat Torah Joden alle Thora-rollen in hun plaatsen van aanbidding wegnemen en met hen dansen, kun je je afvragen of dit normaal is. Op veel plaatsen dansen ze met deze rollen door de straten. Het gevaar bestat dan dat de rollen worden gezien als iets om te prijzen en te aanbidden. Het brengt heidense aanbidding heel dichtbij. Men treft bij de katholieken iets gelijkaardig aan wanneer de priester in een soort van processie ook rondgaat met een Bijbelboek hoog opgeheven, en waarbij de gelovigen dan neerknielen als de priester langs hen komt.
Voor velen wordt de shtiebel of het kleine bijeenkomsthuis een "huis van aanbidding", de chazan wordt een voorzanger, Yom Tov davening wordt "De Festival Dienst", en ze zitten daar gewoon te kijken, gehoorzamend aan bevelen om op te staan ​​en te gaan zitten, rustig zittend tijdens de preek van de rabbijn. Het kan heel goed zijn dat op zulke momenten de Thora wederzijdse vreemden worden en de synagoge een plaats wordt waar ze God ontmoeten, zoals je eenmaal per jaar je ex tijdens een koffietafel kunt ontmoeten.
Een Jood, zoals elke liefhebber van de Elohim, moet in brand staan. De Thora is een alles verterende vlam en de Jood is zijn gloeiende hete kolen. Laat de kolen afkoelen en de vlam verdwijnt terug naar de plaats waar alle vuur zich verbergt. Alle waanzin is verloren, liefde maakt plaats voor rede en het huwelijk is op de klippen.
Daarom moeten we ervoor zorgen dat onze liefde voor de Dvar HaElohim diep in ons is gegrondvest. Goed zaad hebben in een vruchtbare grond, diep in ons oprecht hart.
Onze liefde voor de Allerhoogste en Zijn afgezonderde Woord zou zo intens moeten zijn, dat ons vuur anderen verwarmt en hen naar ons laat komen, van de kou tot de warmte van onze broederschap. Als we Gods Woord diep in ons dragen, zijn we verenigd met de Allerhoogste. Ik, jij en mijn en jouw God zijn één. En de Thora is het huwelijk dat ons bindt en ons gebonden heeft voor de reizen van 3300 jaar. Het is ons geboorterecht, deze Thora, en zolang we de eerstgeboorterechtendans kunnen dansen, zal de Thora ons herinneren.
We moeten de manier waarop we bidden veranderen, de manier waarop we onze kinderen leren en de manier waarop we onze Geliefde boven ons ontmoeten. We moeten het hele jaar een wild en vrolijk jaar van Simchat Torah maken. We moeten dansen op onze weg naar de bevrijding van onze ziel. Maar we moeten voorzichtig zijn hoe we dat doen!
+
Voorgaande
Simchat Torah of Vreugde der Wet
++
Aanverwant