For a few weeks the world was in debate and questioning what would happen between the Russian Federation and Ukaine.
The current second war-time president in Ukraine is a Russian-speaking Jew and the prime minister he inherited after election in 2019 was also Jewish, as are a number of national lawmakers. But the Russian president considers them fascists and neo-Nazis, which is a strange accusation when one knows that they also have more communist or socialist ideas than extreme right ideas.
In the third week of February 2022 Jews outside of Ukraine knew Volodymyr Zelensky as the humorous Ukrainian TV show "Servant of the People," starring as an unlikely president of the Eastern European country, and as the world leader on the other end of the "perfect phone call" that resulted in the impeachment of President Donald Trump.
Suddenly this man came at the centre of the continent's most significant conflict since World War II, framing himself as a possible martyr on the world stage. His country perhaps being the introduction actor of what we could come to name World War III.
Just over a century ago, between 1918 and 1921, tens of thousands of Ukrainian Jews were murdered, tortured and raped in hundreds of pogroms by marauders, some of them Russian.
Benjamin Ivry looks in his Forward article "In Ukraine, a long history of Russian crimes against Jews" at truth that itself has been assailed during sustained unrest. In previous times, fake news was used to blacken the Jews and to justify the violence against the Jehudiem or Jews. Again, the present Russian leader sold the message that the President of Ukraine is a neo-nazi and fascist who supports the Nazis in his country and terrorises the Russians of his country.
Over the course of a few years, Zelensky — who is the first-ever Jewish president of Ukraine, a country with a long and complicated Jewish history — has quickly become one of the most consequential and prominent Jewish world leaders in recent decades. And given his nonpolitical roots, one of the unlikeliest.
I wonder where Putin gets it from that this man with whom he previously had a good relationship, now accuses of being a Nazi?
"Its goal is to protect people who have been subjected to bullying and genocide… for the last eight years. And for this we will strive for the demilitarization and denazification of Ukraine,"
Putin said in his speech, which was broadcast on state television, giving his reason to start, what he calls
a peace mission.
Zelensky, who has not elaborated on the details of his Jewish upbringing, or his religiosity, was born in a Russian-speaking area of eastern Ukraine to Jewish parents, a mother who was an engineer and a father who is a computer scientist. His father's father, Semyon, served in the Soviet Red Army during World War II; Semyon's father and brothers were all murdered in the Holocaust.
Having a grandfather who survived World War II contributing to the victory over Nazism and hateful ideology it would be very strange (very weird) to have this grandson who became president, to have turned around to become a Nazi.
After high school, Zelensky earned a scholarship to study in Israel on the strength of his English scores but turned it down because his father did not want him to go, according to an interview he gave in 2018. He went to study law, but whilst he was studying became more interested in acting and ultimately became a successful comedian, joining a popular comedy group that performed across the former Soviet Union. Along the way, he married a high school classmate, with whom he has two children, a 17-year-old daughter and a 9-year-old son.
By the time Zelensky joined the "Servant of the People" series in 2015, he was one of Ukraine's most famous pop culture figures.
His Jewish identity has been repeatedly seized on by enemies and rivals, and celebrated by Jewish supporters around the world.
In April 2021 when hundreds of Ukrainians attended marches celebrating Nazi SS soldiers, in the Embroidery March taking place in the capital on April 28, the 78th anniversary of the establishment of the 14th Waffen Grenadier Division of the SS, also known as the 1st Galician. A day earlier, hundreds had attended a larger Embroidery March in the western city of Lviv, historically the chief centre of Galicia, a region now divided between Ukraine and Poland.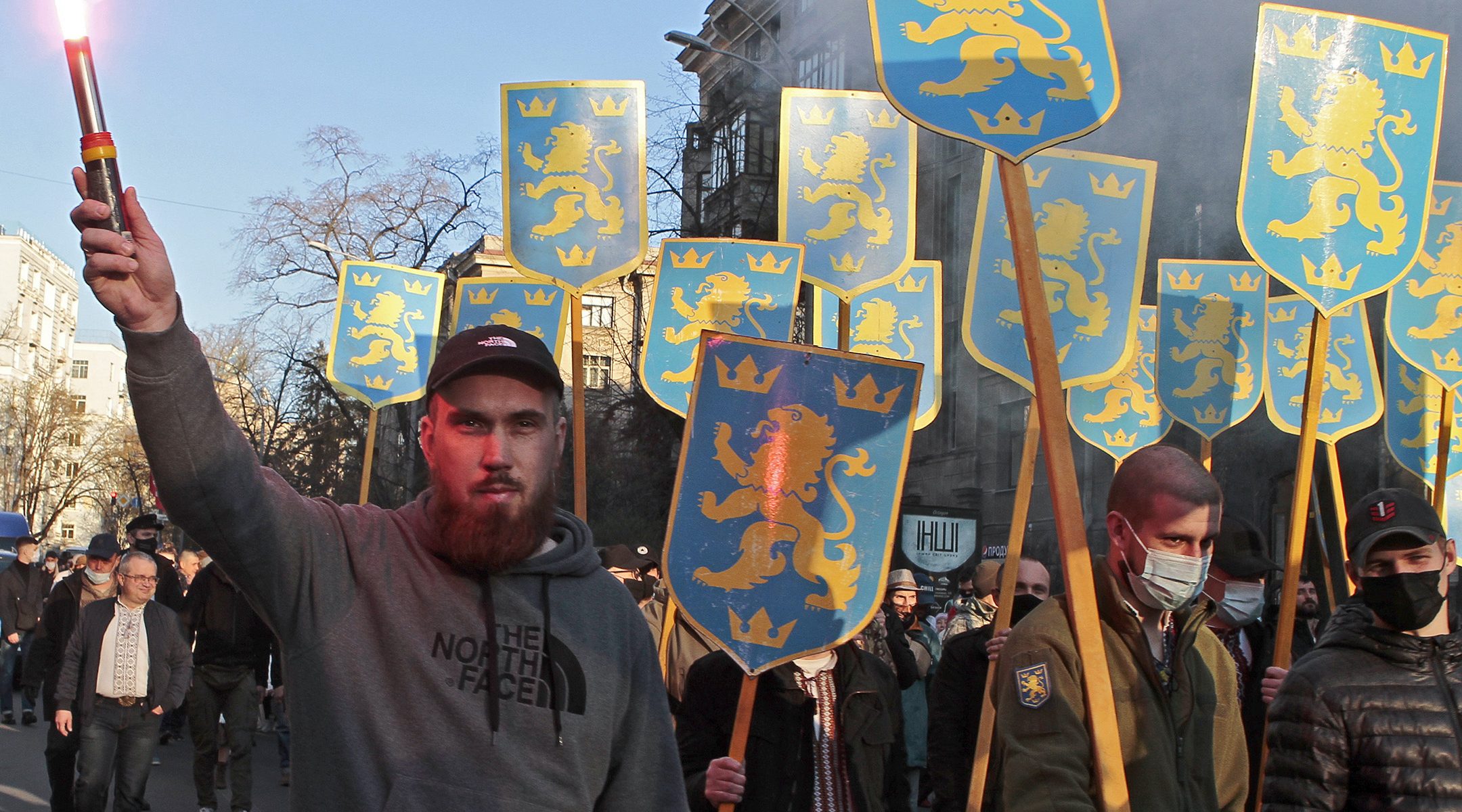 Israel's Foreign Ministry and Ukrainian Jews, who according to a 2020 demographic study number about 47,000, have protested the veneration of the 1st Galician and other collaborators, the same as Zelensky did. But the collaborators' popularity has soared following the 2014 war with Russia.
Ukraine has a large minority of ethnic Russians, who oppose the glorification of Nazi collaborators. Such actions were taboo in Ukraine until the early 2000s, when nationalists demanded and obtained state recognition for collaborators as heroes for their actions against the Soviet Union, which dominated Ukraine until 1991.
In a bizarre complication to the narrative, Putin has repeatedly said that his military operation is an attempt to "de-Nazify" Ukraine.
"How can I be a Nazi?"
Zelensky said on Thursday the 24th of February, without specifically mentioning his Jewishness.
"Explain it to my grandfather, who went through the entire war in the infantry of the Soviet army, and died a colonel in an independent Ukraine."
The Russians invaded Ukraine, though Putin had previously assured the crowd he was not planning to invade Ukraine.
After days of watching Zelensky balance humour and gravitas while rallying his fellow Ukrainians to rebuff the Russian army invasion, they know him as a contemporary Jewish hero.
"Zelensky gives modern Maccabee energy,"
Peter Fox, a writer, wrote on Twitter.
Fox was referring to the ancient Jews who, though outflanked in every way, fended off the efforts of foreign fighters, directed by a power-hungry ruler, to quash their independence and culture.
That history can be seen as an apt comparison for what's happening in Ukraine — and it's one of several reasons that Zelensky's leadership is resonating so much with Jews the world over.
"As a Jew, it is impossible not to feel proud of the courage, dignity, and defiance shown by Zelensky at this moment,"
Molly Crabapple, a prominent leftist writer and artist, said in a tweet late Friday night, shortly after Zelensky posted a video showing him in the centre of Kyiv, defiant in the face of encroaching Russian forces.
In Tel Aviv, people rallying for Ukraine chanted Zelensky's name. A tweet by a former Israeli speechwriter encouraging people to pray for him by his Hebrew name was shared tens of thousands of times over the weekend. And multiple memes ricocheted around the internet highlighting Zelensky as a powerful embodiment of Jewish pride
despite any incongruities, bizarre lies by world leaders may be debunked with time and ambiguities clarified by diligent observance. Nuances matter, as the English Jewish novelist Israel Zangwill stated in October 1919, not quite absolving the Ukrainian government of responsibility for anti-Jewish violence.

Zangwill admitted that Ukraine was

"working hard, if not perhaps its hardest, to stop massacres for which the unsettled state of Russia is largely responsible." {In Ukraine, a long history of Russian crimes against Jews}
+
Please come to read the article giving a picture of the Jews in Ukraine:
In Ukraine, a long history of Russian crimes against Jews, by Benjamin Ivry
+
Additional reading
+++
Related