The British four-part television drama Ridley Road which premiered on BBC One on 3 October 2021 can now also be seen on PBS.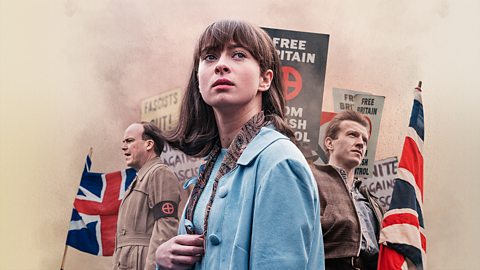 The mini-series Ridley Road is set in the East End of London in the early 1960s and follows the story of a Jewish woman who infiltrates the ranks of the neo-Nazis, posing as an antisemite and flirting with their leader, Colin Jordan, so she can gather information on their plans for the Jewish antifascist organization 62 Group.
This fictitious story is a must-see. Therefore I dare to mention it here, for those who did not came to see it on the BBC. Though it might be negative that it is created like a cartoon-strip series, the characters look very real, and like always the BBC made a beautiful job for letting it look in the 1960s with all costumes and cars in style of the times, letting it bring enough tension to captivate.
Ridley Road is set against the fascist revival in 1960s London and the Jewish men and women who fought against it. Although this is a fictional story it's based on the accounts of real people and inspired by real events.
Jo Bloom, the author of the book on which the show is based, tells us about her personal interest in this relatively unknown part of history and how fact and fiction meet in Ridley Road.
This made-up story within an accurate historical context should make us think about how certain events are taking place today and how easy it is to get people along with a certain political vision and group spirit.  Ridley Road, shows that we can find extremism in many circles and that it does not need to arise out of extraordinary situations. It emerges from everyday life.
Though I would give it only three stars, Carol Midgley, for The Times, gave it four stars, saying
"What makes Ridley Road a joy to watch is not only the stellar cast, but the storytelling… It is beautifully crafted, weaving in archive footage, making it look as if Vivien is actually in Sixties London."
>